Windows xp administrator password recovery bootable cd. XP Recovery Console
Windows xp administrator password recovery bootable cd
Rating: 9,3/10

801

reviews
recovery of window xp administrator password
Next, let's say you can't get into any administrative account, or perhaps windows is not loading all the way because your product key has expired. There is a hidden administrator account. I have tried this site and it did not work for my password, which was 11 characters and mostly symbols, numbers, and letters. You will need one blank formatted floppy disk to complete the task. Windows has a built in feature that creates a floppy diskette that helps you reset your password in case you don't remember it. As you can tell, the best ways to crack a Windows password is using Linux! And its gui access with mouse control.
Next
canew.global.ssl.fastly.net. Boot Disk: Password Resetting
So hit Enter to set up Windows and continue. Cancelling will just result in Setup resuming at bootup and your changes will be lost. Do this by repeatedly tapping the F8 key as the computer is starting up. We will be hitting Enter to start the installation. It will automatically find the disk where your Windows installation is. You have to use software that understands how to burn a.
Next
Reset/Recover/Unlock Windows 8.1 Administrator Password with Hiren's BootCD
What do you not see that you think you should be seeing? Once failed with the free Windows password recovery tools, you need more advanced tool like. The software gives you the option to remove the password from any user account. After you have made your changes, close the windows, exit the command box and continue on with the Repair have your Product key handy. If you want a step by step guide on using John the Ripper, check out this article from. Let Windows do its thing and start. Navigate to the user account applet and click on the user account with the forgotten password. Any mistake may damage your Important Data! If you are having a hard time understanding, click the link or copy or whatever and go to the page for more information.
Next
Hiren's: Boot CD: Mini Windows XP: NTPWEdit (Reset Xp/Vista/7 User Password)
I was amazed when I got this to work and also sickened by how insecure workstations can be! This is the one that worked for me. Hope this information helps you! By default, the default Administrator account has no password. This will bring up a Logon Failure box and you will then see the option to use your Password Reset disk to create a new password. At the Welcome Screen, do Ctrl-Alt-Del twice to get the classic Windows logon box. Just keep the default and press Enter. What is your system make and model? Thank you so much for the help. This only works when there is no password set on the hidden administrator account.
Next
Administrator Password Recovery Console
Use the build in machine administrator, if it's unlocked. Another few minutes will pass by and Windows setup will say that it is starting Windows. Be careful not to change anything else. Method 6: Using regedit again 1. You can read the documentation to learn how to use it.
Next
Windows XP Forgot Admin Password
Also, Ophcrack uses password tables to brute force crack the user passwords. Once you get the console type regedit. This will take you into a screen where windows lists different settings you can choose, as to how you want windows to run. What do you see that you don't think you should be seeing? Choose Safe Mode and press Enter. To get into recovery mode, I need the password to this Administrator account. You are asked to select which part of registry to load. Step 5: Press Enter to accept the default Windows Registry path.
Next
Windows XP Forgot Admin Password
In the step 4, I cannot find my main partition, where is windows 8. So many people have set passwords for their computer. Then, place the disc in the computer you want to reformat. Type y and hit Enter to write backup changes. Seeing that administrator's can change the passwords of administrators, access to any local administrative account will yield an entry to the user account control panel applet.
Next
Windows XP Forgot Admin Password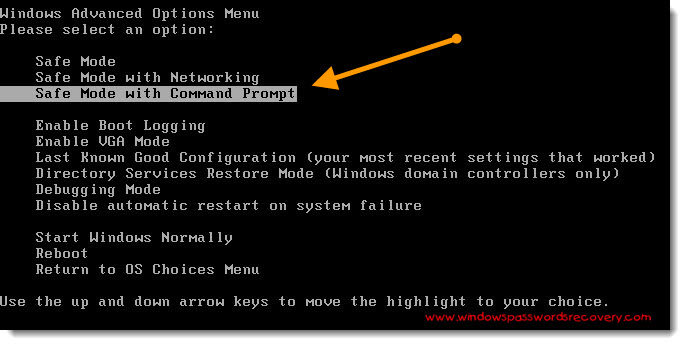 Now on this screen below you will want to highlight your installation of Windows if there is more than one. Next, for username type in Administrator, leave the password blank. This method just worked completey for me, I am now operating windows in normal mode and happy to of impressed myself, lol! I graduated from Emory University with a degree in Computer Science and Mathematics. Remember only use this for good and not evil. These adjustments are made before Windows tries to load. Then you need to select the partition that contains the Windows installation that you want to delete a password from. How we can recover the lost password? Press Shift+F10 this will open console now.
Next
Windows XP Forgot Admin Password
Setup will now check your disks and then start copying files which can take several minutes. After clearing your forgotten admin password, type q and hit Enter to quit editing user. I have a dell laptop, forgot the password I created, and I am the main account holder. Then you can disconnect the disk and restart the computer. The downloaded file is a self-extracting. Then log in as Admin2 with the new account, and you now have admin control of the pc.
Next
Reset/Recover/Unlock Windows 8.1 Administrator Password with Hiren's BootCD
If that won't work, go to this link. If you install it in Windows vista or Windows 7, I recommend you run installation program as Administrator, and run it as Administrator. I would try all the toggle keys to see if the recovery media is installed on the hard-drive usualy its the f11 or f12 if not specifyed at the pass on the bios when the machine boots. There are lots of options to recover it nowadays but almost all of them require a third party piece of software. It freezes but I am still able to use my mouse. Ever forgotten your Windows password and couldn't log in to your computer? Any questions, or if you'd like me to outline specific instructions for you in a specific scenario, e-mail me privately at zgwin at zigweb dot net. If you don't you have no burner on your computer, you can also choose to burn with a usb drive, which can be directly burned with this program.
Next